Start or continue your career with us - attend our Recruitment Fair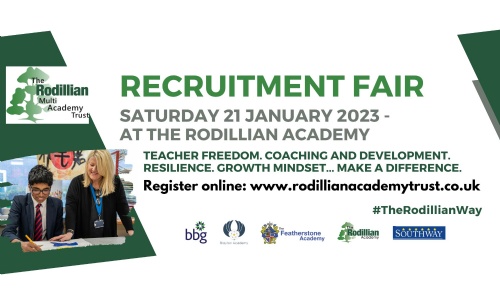 Our Trust-wide annual Recruitment Fair returns on Saturday 21 January 2023, 9:30am – 12:15pm.
The fair is open to teaching, support, central services and pastoral staff who are looking to start or continue their career with us, or within our Trust's Academies; all of which are rated as either 'Outstanding' or 'Good' by Ofsted.
Teaching vacancies available across the Trust are currently within the core subjects of Maths, English and Science alongside Geography, History, Modern Foreign Languages and PE. A brochure with further information will be shared shortly and with all registered attendees.
To be held at the Rodillian Academy, the fair will consist of a warm welcome from the Trust's Chief Executive, Andy Goulty, who will share the Rodillian ethos and what makes the Trust, us and our Academies a truly unique place to work.
Principals and colleagues from across the Trust will also host stalls where vacancies can be discussed directly, whilst allowing attendees to find out first-hand what it is really like to work within the Trust. Attendees will also get chance to meet current students and see the Rodillian ethos in action.
Denise Kriens, Director of HR, Safeguarding and Health and Safety at the Trust, said: "Our 2022 staff wellbeing survey told us that 95% of staff agree or strongly agree that they enjoy working at the Trust, and 92% of staff would recommend working at the Trust to a friend.
"We're really proud of these results and believe this is a testament to our ethos and principles, which are embedded in everything we do.
"We focus on teacher freedom in the classroom and the development of all staff. Our Positive Discipline framework, Resilience and Aspire curriculums and growth mindset also allow us to give all our students the tools they need to reach their potential. Staff at the Trust are empowered to make a difference every day."
Please register your attendance for the Recruitment Fair directly through Eventbrite: www.eventbrite.com/e/the-rodillian-multi-academy-trust-recruitment-fair-2023-tickets-484254988707.
If you have any questions or queries, we would love to hear from you. Please contact our HR team on: recruitment@rodillianacademy.co.uk.