Communities come together for Southway's festive celebration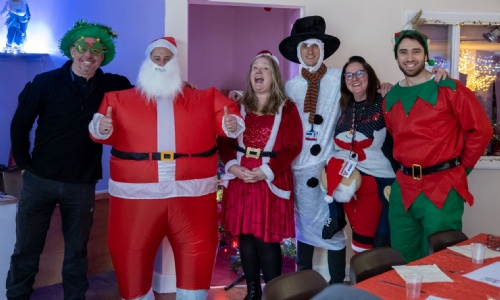 Southway held its first ever festive event for students and staff, supported by the local community.
Held on 13 December 2022, the event saw students and staff come together to play games and take part in quizzes, all whilst enjoying a festive dinner with all the trimmings.
Saint John and Saint Barnabas Church in Belle Isle opened its doors to host the event, with food donations from East Ardsley butcher's R.H Binks & Sons which was facilitated by Trident Fitness who have supported Southway with a boxing and fitness programme for the last two years. The event had subsidised catering from Blue Pepper Catering who recognised that this was a fantastic way of giving the Southway students a fitting Christmas dinner.
The independent school, which is part of the Rodillian Multi Academy Trust, provides alternative provision and education for students at Key Stage 3 and Key Stage 4.
Andy Percival, Principal at Southway, said: "This is the first time Southway has held a festive event for all students and staff on this scale, and it is something we'd hoped to do for a long time. I have always had a dream to bring the whole school together to eat as the Southway community and this was the perfect opportunity.
"The young people who attend Southway often struggle with conventional education or, due to challenging and often traumatic events in their lives, they need a period of time in an alternate school setting.
"Our focus at Southway is to help students reset, rebuild and succeed. Events like this help us to do this, as we focus on building trust and positive relationships with students outside the traditional school setting. It also allows us to provide opportunities to celebrate our achievements and for students to socialise and try new things.
"We are grateful for the support we receive from our communities every day and for everyone who supported our festive event and helped make it a success; the feedback we had from students was fantastic, and a real testament to the community effort.
"It is the strength of these relationships that make Southway the amazing provision that it is."